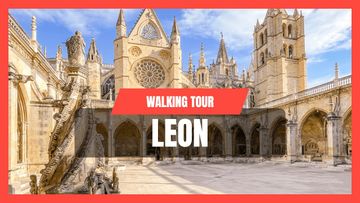 Walking tour Leon | Spain [4K]
Today we are in the city Leon, it is the capital of the province of Castilla and Leon in Spain.
The history of the city is very bright, it dates back to Roman times. We will see with you the whole city, its architectural monuments, ancient walls and of course the Royal Cathedral or the Cathedral of Santa Maria Regia.

The foundation of Leon dates back to Roman times, when the camp of the VII legion formed in Spain was built here. After the Visigoth invasion of the Pyrenees, the city for a long time was practically not mentioned in written sources. In the VIII century, Leon was destroyed by the Arab commander Musa, and a few years later by King Alfonso I. King Ordogno I (850-866) and his successor Alfonso III the Great surrounded Leon with powerful stone walls, and in 914 Ordono II moved here the residence of the kings Asturias and Leon. In the X-XII centuries, it was the main Christian city of the Iberian Peninsula, and only after the formation of the united kingdom of Castile and Leon in the XIII century lost this status.